AI Shogi (AI将棋) is a CD-ROM-based board game simulator for the Pippin Atmark console. It is a computer A.I. version of Shogi, a classic strategy game also known as Japanese chess.[1]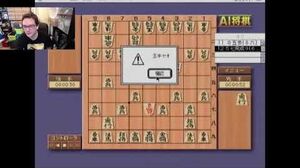 AI Shogi was originally developed by Something Good.[2] SoftBank released the Saturn and PlayStation console versions in Japan on August 25, 1995 and November 22, 1995, respectively.[3][4] Taito released the 3DO version in Japan on September 14, 1995.[5]
In 1996, ASCII Something Good (which had since been acquired by ASCII Corporation) released the Pippin version in Japan.[1]
References
Edit
↑ 1.0 1.1 PIPPIN@MARK software release list (Japanese), Retrogeme.
↑ ASCII Something Good, Sega Retro.
External links
Edit

This stub article needs more data!
You can help by expanding it.