Bonogurashi (ぼのぐらし) is a CD-ROM-based social interaction simulator that had been announced for Pippin Atmark.[1] It is based on the Bonobono manga series by Mikio Igarashi (五十嵐 三喜夫).[2]
Release status
Edit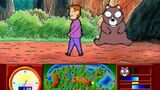 Developed by Amuse Productions, Bonogurashi was first released in Japan separately for 3DO and Macintosh in 1995. The PlayStation version was released by Bandai's Emotion Digital Software on June 7, 1996.[2]
A Pippin version had been announced by Bandai for May 1996, but does not appear to have been released.[3][4]
References
Edit
External links
Edit

This stub article needs more data!
You can help by expanding it.