Dazzeloids (ダズロイド) is a CD-ROM-based edutainment title created by Rodney Alan Greenblat for the Pippin Atmark console.[1] It was awarded "The Best CD-ROM for Children" at COMDEX 1995.[2]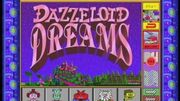 Dazzeloids was originally released by Voyager Company in 1994 as a hybrid disc for Windows 3.0 and Macintosh.[3] The Pippin version was released in Japan on June 7, 1996.[4]
Greenblat went on to achieve wider recognition for his next project, PaRappa the Rapper for Playstation consoles, in which he began a longtime collaboration with producer Masaya Matsuura, the designer of Tunin'Glue, another Pippin title.[5][6]
References
Edit
External links
Edit

This stub article needs more data!
You can help by expanding it.