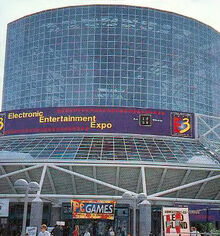 The Electronic Entertainment Expo, or simply E3, is a tradeshow devoted the video game industry. It was organized by the publisher of Macworld magazine, a subsidiary of International Data Group. The Pippin platform, jointly developed by Apple Computer and Bandai, was marketed at E3 events in 1995 to 1997.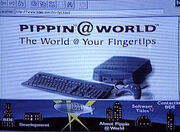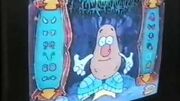 E3 Expo '95
Edit
Held May 11-13, 1995 at Los Angeles Convention Center.[1] The Pippin prototype was identified under the working title "Power Player".[2]
E3 Expo '96
Edit
Held May 16-18, 1996 at the Los Angeles Convention Center.[3][2] A day earlier on May 15, 1996, Bandai Digital Entertainment unveiled the Pippin @WORLD console at a "Media Preview" event held nearby at the Beverly Hills Hotel, where Sheryl Crow performed for about 1,000 guests.[4] However, the media at the time was focused on Apple's "beleaguered" status.[5]
E3: Tokyo '96
Edit
Held for the first and last time in Japan on November 1-4 at Makuhari Messe. Sony and Sega declined to participate, dooming the event to lose out to the Tokyo Game Show.[6][7]
E3 Expo '97
Edit
Held June 19-21, 1997 at the Georgia Dome in Atlanta.[8] Pippin versions of Mr. Potato Head Saves Veggie Valley and The Journeyman Project: Pegasus Prime were shown.[9][10] By then, Bandai Digital Entertainment had organized a Pippin @WORLD Business Unit to refocus the platform towards vertical markets such as corporate intranets.[11][12]
References
Edit
External links
Edit

This stub article needs more data!
You can help by expanding it.