Exotic Sushi is a CD-ROM reference title that had been released for Pippin @WORLD consoles.[1]
The CD-ROM provides instruction on how to prepare dozens of types of sushi with multimedia images, sound, and over an hour of video.[1]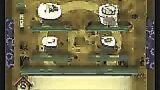 Exotic Sushi was developed by Electric Dreams and localized into five different languages.[1] The Pippin version was released in the United States by Bandai Digital Entertainment in 1996.[2]
The Windows and Macintosh versions had been scheduled for release in January 1997,[2] which was then pushed back to July 1997.[3]
References
Edit
↑ 1.0 1.1 1.2 Video Game Bible 1985-2002, p.60.
↑ 2.0 2.1 @WORLD Software - Reference & Productivity, Bandai Digital Entertainment USA. Archived 1997-04-04.
↑ Ordering Software, Bandai Digital Entertainment. Archived 1997-07-12.
External links
Edit

This stub article needs more data!
You can help by expanding it.