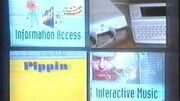 A hybrid disc contains content that can be used on multiple devices or operating systems. Discs that support Macintosh and Windows are commonly seen by consumers.
Hybrid Pippin discs
Edit
See also: Category: Hybrid Pippin discs
Because Pippin is based on the Macintosh operating system, a CD-ROM can be prepared so that an application would launch on both a Pippin console and a Macintosh computer.[1] Japanese Pippin titles with such cross-platform support are indicated with a sticker above the obi strip on jewelcases, or with a label on the upper-left corner of boxes. Less common are Pippin titles that also support Windows as well as Macintosh from the same disc — Action Designer: Ultraman Tiga is one such example.
References
Edit
↑ Hacking the Pippin, Vintage Mac World. 2007-10-22. Archived 2017-08-17
External links
Edit

This stub article needs more data!
You can help by expanding it.
Community content is available under
CC-BY-SA
unless otherwise noted.