Katz Media was a French-Norwegian company that was founded in 1996 to market the Pippin-compatible Katz Media Player 2000 console in Europe.[1] Katz Media SARL was based in Boulogne-Billancourt, France and was focused on hardware. Its parent company, Katz Media Holding Limited, was founded on March 28, 1996 and based in Dublin, Ireland.[2] Katz Media AS was a subsidiary of Olympia Finans AS of Oslo, Norway and was focused on software.[3][4]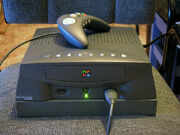 On June 4, 1996, Katz Media became the second company to sign a license agreement with Apple Computer to distribute Pippin systems.[5][6] Katz Media had projected sales of about NOK 35 million kr (approx. US$ 5,350,000 in June 1996).[7][8] Bandai supplied the consoles as an OEM,[9] while Katz Media made plans to manufacture future units in Ireland. The KMP 2000 began shipping in Europe on March 17, 1997 with a focus on industry segments such as hotels, health care, travel, government, and education.[9]
During Marché international des Inforoutes et du Multimédia in May 1997, Groupe Arborescence announced a partnership with Katz Media to develop and market the Arborescence Network Centric computer for the Canadian market.[10] It was to have been based on the KMP 2000 with a custom Pippin Expansion Unit as part of a "Arborescence/Katz Media Pippin package" to be targeted towards Canadian consumers who did not have internet access. Though prototyped by Primetech Electronics,[11] it was not publicly released.[12]
See also: Category: Katz Media titles
Katz Media stated in 1997 that it had acquired publishing rights to about 40-50 CD-ROM titles, including:[7]
However, only a small number were being developed for the Pippin platform, due to cost.[19] It is uncertain which titles had ever been ported or released as Katz Media was also seeking distribution partners at the time.[20]
"We had rights to about four or five titles, but it turned out to be very expensive to get companies to develop games for the console. I remember I was in touch with LucasArts at the time."[19]

— Pål Høiås
General Manager, Katz Media
With the return of Steve Jobs at Apple in 1997, further development on the platform was cancelled.[21] A department was opened in Paris in an attempt to salvage the KMP 2000 business by utilizing the consoles in kiosks, but Katz Media went bankrupt in 1998.[19] Only about 1,000 units are believed to have been sold by the time Katz Media's websites went down in 1999,[22] Remaining inventory was sold off to DayStar Digital.[23] Katz Media Holding Limited has since been liquidated and is not affiliated with other companies presently operating under similar names.[2]
References
Edit
External links
Edit