Macromedia Director was a multimedia application authoring system that was developed by Macromedia, originally for Apple's Macintosh line of computers. It had since been acquired by Adobe Systems, which discontinued support for Adobe Director in 2017.[1]
Director and the Pippin platformEdit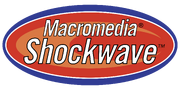 When Bandai first approached Apple about partnering to develop a Mac-based game platform that would eventually become the Pippin, they first proposed a simplified Macintosh Classic II with the ability to play Director-based titles.[2] Director, along with Apple Media Tool and MetroWerks' CodeWarrior, were among platforms recommended by Apple for Pippin development.[3]
Applications authored with Macromedia Director often, though not always, bear a logo indicating such. Director supports playback scripting with the Lingo programming language, allowing for rapid prototyping and development of graphical applications with the tradeoff of limitations of the authoring platform.[4]
Pippin @WORLD consoles in the United States were bundled with the @WORLD Browser, which supported Shockwave web content authored with Macromedia Director.[5][6]
References
Edit
External links
Edit
Community content is available under
CC-BY-SA
unless otherwise noted.