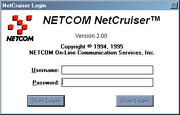 NetCruiser is a web browser that was included with a version of WebViewer for the Pippin Atmark console.[1]
NetCruiser was one of the first browsers for Windows, developed by Netcom.[2] The software was free, but users paid for Netcom's internet service.[3]
The Macintosh version underwent beta testing in October 1995,[4] and was introduced at Macworld Expo San Francisco in January 1996.[5] NetCruiser 3.0 was bundled with Microsoft Internet Explorer 3.0 and J-DATA software on WebViewer, a "Pippinized" CD-ROM that was released in Japan in 1997.[1]
References
Edit
↑ 1.0 1.1 Page 35 (カラリオ倶樂部) by Lingjr, Lingjr Pippin. 2006-03-15.
↑ Modems, wArEz, and ANSI art: Remembering BBS life at 2400bps p.3 by Lee Hutchinson, Ars Technica. 2014-01-22.
↑ Using the Internet the Netcom Way p.7 by Peter H. Lewis, New York Times. 1995-05-16.
↑ ANNOUNCEMENT: NetCruiser Mac Beta is closed by Kael Loftus, Google Groups. 1995-10-17.
↑ Netcom unveils NetCruiser for the Mac, CNET. 1996-01-10.
External links
Edit

This stub article needs more data!
You can help by expanding it.