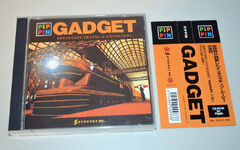 An obi (帯) strip, sometimes called a spine card,[1] is a piece of paper that wraps around the spine of Japanese media packages. It is included to provide the customer with information about the item being sold.[2]
Japanese releases of Pippin titles in jewelcases (not boxed) came with an obi strip which typically included bar codes, pricing, product numbers and other details about the disc. Many of these Pippin jewelcases also included a sticker indicating support for platform cross-compatibility). Though considered disposable by consumers,[2] the inclusion of an obi strip can greatly enhance the value of an item for collectors.[3]
References
Edit
↑ Spine card? Cure me of this ignorance! by Xexyz, Digital Press. 2005-09-27.
↑ 2.0 2.1 What is an obi strip?, Japanese Mini LP Papersleeve Replica CDs. 2010-11-05.
↑ What is the hype about obi-strip?! by danisberg, Discogs. 2016-07-09.
External links
Edit

This stub article needs more data!
You can help by expanding it.