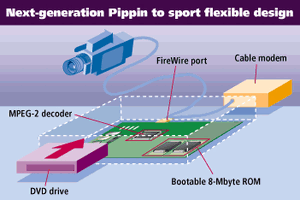 Pippin 2.0, also known as Pippin 1997 Reference Platform,[1] was a reference design specification prepared by Apple Computer to update the Pippin platform.[2][3]
Apple had been demonstrating the design to licensees and developers in 1996. Increased ROM space would eliminate the need to store system software on the CD-ROM, allowing diskless booting for set-top or kiosk operation.[2] The set-top box prototype combined the functionality of a game console with a satellite receiver and DVD-R drive.[4] Apple CEO Gil Amelio stated at the 1996 Apple Worldwide Developers Conference that Apple was developing its own version of Pippin that was not intended to compete with Bandai's consoles.[5] Amelio also described Apple's version of a NC device, based on the Network Computer Reference Profile, as "kind of a Pippin Plus."[6]
Apple co-founder Steve Jobs returned to the company and was named Interim CEO on September 16, 1997.[7] The Pippin was among several projects cancelled by Jobs to return Apple to profitability.[8] However, Jobs chose to retain the Macintosh NC project, which evolved into the PowerPC G3-based iMac, a breakout success for Apple in 1998.[9] Some of the other technologies, such as Firewire and DVD-ROM, reappeared as part of the iMac DV in 1999.[10]
Specifications
Edit
References
Edit
External links
Edit

This stub article needs more data!
You can help by expanding it.