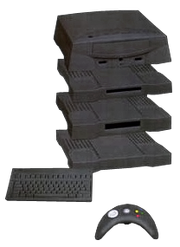 .
Pippin expansion docks were produced in very limited numbers by Bandai Digital Entertainment and Katz Media. The docks used a custom "X-PCI" interface to connect to the underside of a Pippin console.
Model number PA-82002,[1] a white dock containing a floppy drive, released in the Japanese market for Pippin Atmarks at an MSRP of JP¥12,000.[2][3]
A dock to add ethernet support was announced by Bandai at an MSRP of US$139, but was not released.[4] Some prototypes contained a combination of a floppy drive and a 10BASE-T ethernet port.[5]
Arborescence and Katz Media announced plans to build the first "combo" expansion bases for the Canadian market as part of the "Arborescence/Katz Media Pippin package", containing a floppy drive and ethernet (or modem) for customers without internet access. Primetech Electronics prototyped a dock with a X-PCI riser card to support various options through conventional PCI.[6][7] However, these docks were never widely released. Some collectors have found individual riser cards as well as complete specimens housing an ethernet card.[8]
Pippin SCSI dock
Edit
A dock containing a SCSI port was reportedly tested for consoles that lacked one, but would have required a ROM update to rev. 1.2 or later.[9]
An optional Zip drive for the Pippin was announced by Iomega on June 18, 1996.[10] A prototype add-on had reportedly been tested in Japan, but was not released.[3]
Released by Olympus on November 15, 1996, this dock featured a MOS330E TURBO III drive with the ability to read 128MB and 230MB magneto-optical (MO) discs with an efficient caching algorithm.[11][12] It was listed for an MSRP of JP¥54,800 and required a ROM update to rev. 1.2 or later.[13][14]
References
Edit
↑ Pippin Floppy Disk Unit by Mark Johnson. Flicker. 2013-10-11.
↑ 3.0 3.1 Video Game Bible 1985-2002 by Andy Slaven, p.61.
↑ Pippin @World gets Ethernet by Tom Karlo, CNET News. 1997-05-21. Archived 2004-11-25.
↑ Bandai-Pippin for sale... and more than complet by newcoleco, AtariAge. 2007-01-29.
↑ Arborescence introduce the first COMBO Pippin doc/base module! by Joe Kudrna, O'Grady's PowerPage: Pippin NewsPage. 1997-08-03. Archived 1998-02-07.
↑ Arborescence Launches KMP 2000 with New Peripherals, The Arborescence Group. 1997-05-22. Archived 1998-01-29.
↑ Bandai Pippin ATMARK \ @WORLD - Discuss by Kabelventje, Video Game Console Library. 2016-11-13.
↑ Useful Notes / Pippin, TV Tropes. Accessed 2017-04-20.
↑ Bandai Digital Entertainment To Offer Iomega's Zip Drive With New Internet Access Appliance., BusinessWire. 1996-06-18.
↑ Deltis 230 MO Docking Turbo (Japanese), Olympus. Archived 1997-06-22
↑ ベアドライブ MOS330E / 331E (Japanese), Olympus. Archived 1997-06-22
↑ Olympus Announces MO Drive for Pippin Atmark (Japanese), PC Watch. 1996-09-24.
↑ An MO reader in the Pippin (French) by Pierre Dandumont. Le journal du Lapin. 2016-11-26.
External links
Edit
Community content is available under
CC-BY-SA
unless otherwise noted.