Racing Days is a CD-ROM-based driving game for Pippin consoles. It was developed by Kitt Peak and distributed in Japan and the United States by Bandai Digital Entertainment in 1996.[1][2][3]
The player can select between single play, network play, and simulation modes.[4] This was the only Pippin @WORLD title to be released in the United States with multiplayer support.[5] The disc also contains "Red Book" Audio CD tracks that are played back during gameplay.[6]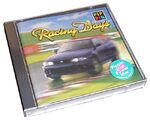 The Japanese release for
Pippin Atmark
was advertised as also being compatible with
Power Macintosh
.
[7]
A demo version was included with the
Pioneer MPC-LX200
series, which was released in Japan on July 1, 1996.
Pioneer
, like
Bandai
, was among the few Japanese companies that obtained a license from
Apple Computer
to build
Macintosh
-compatible systems.
[8]
Racing Days was one of few titles also released by Bandai Digital Entertainment as a launch title for the Pippin @WORLD in the United States. A separate Macintosh version had been scheduled for a U.S. release in January 1997,[1] which was then pushed back to August 1997.[9]
An updated version, Racing Days R, was released for Macintosh by Feral Interactive in 1999 and was ported to Pocket PC by Kitt Peak in 2001.[10][11]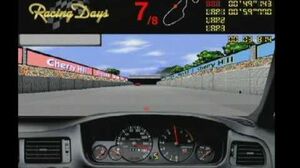 References
Edit
↑ 1.0 1.1 @WORLD Software - Games, Bandai Digital Entertainment USA. Archived 1997-04-04.
↑ Pippin software, Bandai Digital Entertainment, Japan. Archived 1997-06-27.
↑ PIPPIN@MARK software release list (Japanese), Retrogeme. Accessed 2017-05-03.
↑ Racing Days (Apple / Bandai Pippin) by Die-Hard Gamer, YouTube. 2010-02-11.
↑ Video Game Bible 1985-2002, p.61.
↑ Un lecteur CD plus rapide dans la Pippin (et un échec partiel) (French) by Pierre Dandumont, Le Journal du Lapin. 2016-09-03.
↑ Racing Days, Crappy Game's Wikia.
↑ Ordering Software, Bandai Digital Entertainment. Archived 1997-07-12.
↑ Support for the Mac version of... Racing Days R, Feral Interactive.
↑ Racing Days for Pocket PC, Game Watch (Japanese). 2001-04-26.
External links
Edit

This stub article needs more data!
You can help by expanding it.