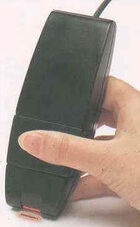 The "Super Cat" (「スーパーキャット」, NBR 104) is a barcode reader device manufactured by Neorex and bundled with Pippin Atmark consoles in a rental package that was offered by J-DATA.[1][2] Some units were deployed with Pippin consoles for use by Japanese businesses, such as stores operated by Kosé (コーセー).[3]
Functionality
[
]
The handheld device attached through a control box to the AppleJack port of the console.[4] It could scan barcodes 1/20th the size of conventional ones used on retail merchandise.[5]
Releases
[
]
From 1997 to 1999, J-DATA offered a Pippin Atmark console with 33.6 kbps modem, wireless AppleJack controller, a Super Cat barcode reader, and a subscription to J.D.Press magazine, in a rental package for a monthly fee of JP¥ 6,800. Each month, the magazine offered listings of 300 websites that could be scanned through the Super Cat to avoid manually entering the URL.[6][2] J-DATA published 17 issues of the magazine through August 26, 1997.[7] A Homepage Guide (ホームページガイド) with URLs and barcodes for 1000 websites was also published in April 1997 for subscribers.[8]
The Super Cat was available separately for JP¥ 39,800 (US$ 349).[5] Neorex also produced other models with additional features such as wireless and speaking capabilities.[1]
Gallery
[
]
References
[
]
See also
[
]
External links
[
]
Neorex official website (Japanese, archived 1999-01-17)

This stub article needs more data!
You can help by expanding it.