We're Getting Mutants in the MCU - The Loop
Play Sound
Super Marathon is a CD-ROM-based first-person shooter video game for Pippin consoles. It was developed by Bungie and distributed by Bandai Digital Entertainment in late 1996.[1]
Features
[
]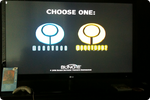 Super Marathon bundles Pippin versions of the first Marathon and its sequel Marathon 2: Durandal. The player can select which of the two games to play upon launch.[2] The real-time 3D graphics push the capabilities of the Pippin hardware,[3] with the first Marathon producing higher frame rates with the tradeoff of a smaller interface window at a lower resolution setting.[2] Some of the levels in Marathon 2 were modified to conform with maps from the Windows release. The font size used by terminal screens was increased to improve legiblity on television.[4]
However, the first Marathon is unable to reproduce the music tracks from the original Macintosh release as QuickTime is not included on the CD-ROM due to memory limitations;[4] Quicktime 2.0 or 2.1 was required for MIDI support to work correctly in Marathon.[5] Both games also lack the multi-player functionality of their original respective releases.[3]
Development
[
]
Jason Regier, a senior programmer at Bungie, was responsible for most of the porting work. Even with reduced features, the game barely fit into the Pippin's default memory configuration and a memory leak in the Pippin OS would cause the console to restart instead of returning to the launch screen.[4] Adding a memory module to the console enables features which are not available by default, such as additional sounds in Marathon 2: Durandal.[6]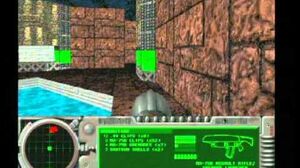 Alexander Rosenberg stated that Bungie was interested in adding Japanese support, but was unable to do so because the company received "zero technical support" from Bandai and never received a Japanese keyboard despite repeated requests. According to Rosenberg, the Bungie staff relied on personal contacts at Apple for assistance. The CD-ROM relies on an early AppleJack input device driver that predates Apple's InputSprocket API, preventing it from being able to run on a Macintosh.[4]
Releases
[
]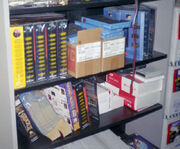 Super Marathon became available in the United States through Cyberian Outpost with the launch of the Pippin @WORLD console. However, according to Matt Soell, director of customer support, Bungie themselves only had copies on hand for archival purposes and never received quantities for their own web store.[4][7]
In Japan, demo versions of Marathon and Marathon 2 were included with the Pioneer MPC-LX200 series, which was released on July 1, 1996. Pioneer, like Bandai, was among the few Japanese companies that obtained a license from Apple Computer to build Macintosh-compatible systems.[8] Using an updated open-source version of its game engine, called Aleph One,[9] the entire Marathon Trilogy was later ported to iOS.[10]
Collectibility
[
]
Because Bungie went on to develop a sizeable following for its Halo series of games on the Xbox platform, the Pippin @WORLD version of Super Marathon has become a sought-after item for retro game collectors.[11] A specimen with the original blue box can fetch hundreds of dollars at auction sites.[10][12]
References
[
]
↑ @WORLD Software - Games, Bandai Digital Entertainment USA. Archived 1997-04-04.
↑ 2.0 2.1 Super Marathon (Pippin) by Die-Hard Gamer, YouTube. 2010-12-12.
↑ 3.0 3.1 Video Game Bible 1985-2002, p.61.
↑ 4.0 4.1 4.2 4.3 4.4 Marathon's Story - Subject: Re: super marathon by Alexander M. Rosenberg, Bungie.org. 1998-08-03.
↑ Marathon's Story - July 27, 2011 (Wednesday) by Hamish Sinclair, Bungie.org. 2011-07-27.
↑ Adding Memory to the Pippin (French) by Pierre Dandumont, Journal du Lapin. 2016-07-30.
↑ Bandai Digital Entertainment (Pippin @World): Super Marathon by Cyberian Outpost, Marathon's Story. 2012-05-19.
↑ 'Aleph One' – The 'Marathon' Trilogy Is Headed for the iPad by Blake Patterson, TouchArcade. 2011-02-05.
↑ 10.0 10.1 Super Marathon, aussi sur iOS (French) by Pierre Dandumont, Journal du Lapin. 2019-04-21.
↑ The original Bungie Trilogy: A Marathon retrospective by Brittany Vincent, Shacknews. 2014-09-19.
↑ Re: Super Marathon for Sale, Cheap by Godot, Marathon's Story Forum. 2012-05-19.
External links
[
]