Tunin'Glue is a CD-ROM-based music title for the Pippin Atmark console in which the player mixes and mashes various audio clips.[1]
Tunin'Glue was developed for Pippin and Macintosh by NanaOn-Sha. It was released only in Japan by Bandai Digital Entertainment on June 7, 1996.[1][2][3]
Collectibility
Edit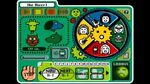 As a Pippin title, Tunin'Glue is a scarce collectible. However, it has the added distinction of being the very first title from Nana On-Sha, the developer that went on to achieve widespread recognition for its next title, PaRappa the Rapper for Playstation consoles. Producer Masaya Matsuura would begin a longtime collaboration with artist Rodney Greenblat, the designer of Dazzeloids, another Pippin title.[1][4]
References
Edit
↑ 1.0 1.1 1.2 Chris Kohler, Power-Up: How Japanese Video Games Gave the World an Extra Life, p.144. 2016.
↑ Pippin software, Bandai Digital Entertainment, Japan. Archived 1997-06-27.
↑ Tunin'Glue (Japanese), Third Stage. Archived 2000-03-05.
↑ Austin Clark, Retro Weekend: PaRappa the Rapper and Nanaon-Sha's PlayStation Legacy, Invisible Gamer. 2015-04-18.
External links
Edit

This stub article needs more data!
You can help by expanding it.