With Open Eyes: Images from the Art Institute of Chicago (よく見てごらん!) is a CD-ROM-based art gallery title for the Pippin Atmark console.[1]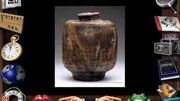 Selected works from the collection of the Art Institute of Chicago are presented with audiovisuals for enjoyment by all ages.[2] The virtual gallery can be sorted by country or era; works can be zoomed in full screen to appreciate details in actual size.[3]
With Open Eyes was originally developed as a hybrid disc for Macintosh and Windows 3.1, and released in the United States in 1995 by Voyager.[3][4]
Voyager released the Pippin version in Japan in 1996.[2] Versions for Macintosh and Windows were released separately in Japan, the latter being published by NEC Interchannel.[3][5] It topped the 1996 Best 10 List in the "Gallery" category by the CD-ROM Critic Writer's Association in Japan.[6]
References
Edit
↑ PIPPIN@MARK software release list (Japanese), Retrogeme.
↑ 3.0 3.1 3.2 With Open Eyes (Japanese) by VoyagerLibrary, YouTube. 2011-07-05.
↑ With Open Eyes, CD-ROM Access.
↑ 1996年 CD-ROM評論家協会大賞 受賞作及びベスト10リスト (Japanese) by Yasukuni Notomi, CCWA. 1997-06-29.
External links
Edit

This stub article needs more data!
You can help by expanding it.