The WonderSwan (ワンダースワン) is a handheld game console that was launched in Japan by Bandai on March 4, 1999,[1] about a year after the discontinuation of the Pippin platform.[2]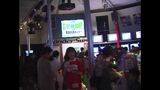 The WonderSwan was originally developed as a grayscale device by Koto Laboratory, the company founded by former Nintendo engineer Gunpei Yokoi (横井 軍平).[3] Bandai showed off the new handheld system at the 1999 Tokyo Toy Show.[4]
It was soon followed by the WonderSwan Color (ワンダースワン カラー).[1] A range of accessories were produced, such as the WonderWave infrared communicator and the WonderBorg robotic kit,[3] which were shown at the 2000 Tokyo Toy Show.[5] The active matrix SwanCrystal (スワンクリスタル) was unveiled by Bandai at the 2002 Tokyo Toy Show.[6] Though well-received, the WonderSwan line was unable to fend off competition from Nintendo's Game Boy Advance and was eventually discontinued in 2003.[1]

Though sold only in Japan, the WonderSwan remains Bandai's last and best-selling console to date.[1] Over 3.5 million units of the consoles were sold and over 10 million games were sold.[7]
In 2018, a scene in the Blu-ray release of Evangelion: 2.22 depicted the character Asuka with a fictitious handheld console that resembled the back of a WonderSwan bearing Bandai and Pippin platform logos.[8]
References
Edit
↑ 1.0 1.1 1.2 1.3 Bandai WonderSwan 101: A Beginner's Guide, Racketboy. 2007-07-06.
↑ Bandai Says Goodbye to Pippin by Chris Johnston, GameSpot. 1998-02-27.
↑ 3.0 3.1 Hardware Classics: Bandai WonderSwan by Damien McFerran, Nintendo Life. 2014-03-11.
↑ 1999年東京おもちゃショー ゴーゴーファイブ ウルトラマンガイア (Japanese) by kbigstone, YouTube. 2013-01-25.
↑ 2000東京おもちゃショー開幕 (Japanese) by funatsu, PC Watch. 2000-03-16.
↑ Swan Crystal debuts at the Tokyo Toy Show 2002 by Yukiyoshi Ike Sato, GameSpot. 2006-05-17.
↑ Device solution: WonderSwan, Koto Laboratory. Archived 2016-03-03.
External links
Edit